Rafting


Feel the heartbeat of Hokkaido's nature this summer!
Niseko's Shiribetsu River Rated #1 in Japan!
Climb into a big rubber boat and feel the crystal, clear water surrounded by stunning nature.
Bond with family and friends.
All with GOOD SPORTS RAFTING!
Control the boat in rapid streams. Feel the river mist as you paddle downstream.
Jump off the boat and into the river.
Swim! Splash! All under the watchful eye of beautful Mt. Yotei.
No car? No problem! Take our free shuttle bus to and from Sapporo.
Niseko rafting with GOOD SPORTS this summer! See you there!
Rafting tour basic information
Adult (Age 13 +) 6,000yen
Child (Age 6-12) 4,000yen
Senior (Age 60 +) 5,000yen

June 1, 2019 -October 22, 2019

Tour A: 9:00-12:00
Tour B: 13:00-16:00
*Actual tour time is about 1.5 hours.

Free shuttle bus *Reservations required

Niseko Area Free Shuttle Bus
Sapporo Free Shuttle Bus

Group picture free of charge
Warm drink at the goal line
Web Booking by 17:00 the day before
Adult
(Age 13+)

Tour A
9:00

¥4,200

Tour B
13:00

¥4,800

Child
(Age 6-12)

Tour A
9:00

¥3,200

Tour B
13:00

¥3,500

Senior
(Age 60+)

Tour A
9:00

¥4,000

Tour B
13:00

¥4,000
Enjoy special memories with only your family and friends
Private Boat
One Boat
Maximum capacity 7
One Boat
Tour A
9:00

¥27,000

Tour B
13:00

¥30,000
GOOD SPORTS GOOD POINTS!
Niseko Area Free Shuttle Bus
(Optional – Reservations Required)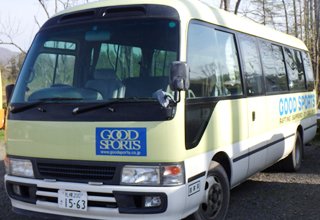 Free Shuttle Serving Niseko Area Hotels・JR Kutchan Station
※ Time is determined the day before. Staff will call you at your contact number to inform you of time.
※ Reservations required. Reserve your seat on booking form. Reservation not accepted if bus is full.
※ Company reserves the right to change time of departure or suspend operations.
※ Niseko Area includes Hirafu・Higashiyama・Annupuri・Hanazono Weiss・JR Kutchan Station
Sapporo Free Shuttle Bus
(Optional – Reservations Required)
Saturday・Sunday Only (Every Day July 15 – August 27)
※ Be in the Sapporo Grand Hotel lobby 10 minutes before departure time.
※ Reservations required. Reserve your seat on booking form. Reservation not accepted if bus is full.
※ Company reserves the right to change time of departure or suspend operations.
※ Arrival time may vary depending upon traffic conditions and tour finish time.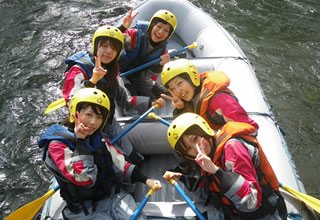 Photos taken of you to take home on CD.
※ Pictures are taken by tour guides, not professional photographers.
※ Pictures include all boats on the tour.
※ There may be times when pictures are not available.
Use of photos
※ Data purchased are for private use only. Good Sports retains the rights to the pictures.
※ For other use of photos, please contact Good Sports at 011-624-8822)
※ Pictures taken may be used for Good Sports advertisement.
Please read the following carefully
BOOKING INFORMATION
Please settle your payment within 2 days of date of booking.
Your booking will be canceled if payment is not completed by the due date.
Price of booking includes equipment rental (See EQUIPMENT RENTAL Section), insurance and consumption tax.
Minimum number of participants required are 2 people. If the minimum is not met, tour may be cancelled.
A tour may be cancelled due to weather・water conditions.
RISKS
Due to the nature of outdoor river activities, there is a risk of danger when participating. Although our guides and staff take every safety precaution, please be aware of the inherit risks involved when joining our tour.
Mobile・smart phones, filming equipment, valuables and jewelry are strictly prohibited. We provide lockers free of charge.

Alcohol consumption is prohibited. If suspected of alcoholic intake, participation will be prohibited and cancellation fees will apply.

A completed and signed consent form is required for each participant. This information is used only in case of accidents to assist with emergency needs. At the end of the tour, this form is deleted.
CLOTHING
Please wear an easy to dry shirt and shorts over a swimsuit to board the boat. You will get wet! River shoes will be provided free of charge to wear on your feet. You may be asked to wear a dry suit depending upon weather conditions. In case of cold weather, please wear warm sportswear under the dry suit.
To prevent catching colds, always bring extra clothes to change after the tour. Even though you wear a dry suit, you may get wet from water and perspiration.
EQUIPMENT RENTAL
All equipment necessary for your tour will be provided and included in the tour price. These include dry suit, life jacket, paddle, helmet, river shoes, and for those wearing glasses, a glasses strap.
WHAT TO BRING
Clothing: Please refer to CLOTHING Section above for details.
Towel: Bring a towel to dry yourself after the tour.
PAYMENT
Payment by credit card only.

Lump sum payment method only
CHANGE・CANCELLATION POLICY
Cancellation fees
One day before tour - 50%
Day of Tour - 100%
Please allow enough time if you are driving. Cancellation fees will apply if you are late.
Cancellation fees will not apply if tour is cancelled by company.
WEATHER CONDITIONS
The tour will be operated in rainy weather; however, when one of the conditions below occurs, the tour will be cancelled. We will inform you of the cancellation at least one day before the tour.

Water level: When the water level at the Kutchan Water Level Station exceeds the designated water level of 169.46.
Weather warnings: When the Weather Bureau issues a heavy rainfall and flood warning (Final decision will be made based on weather information).
When a request for cancellation has been made by an official institution.
When a tour leader determines that conditions are not safe for rafting.

Please also be aware that on the day of your tour, you may be informed of cancellation due to worsening river conditions such as heavy rain, proximity of a thunderstorm, and risk of fallen trees.
Meeting Place
Please come 15 minutes prior to your tour start time.